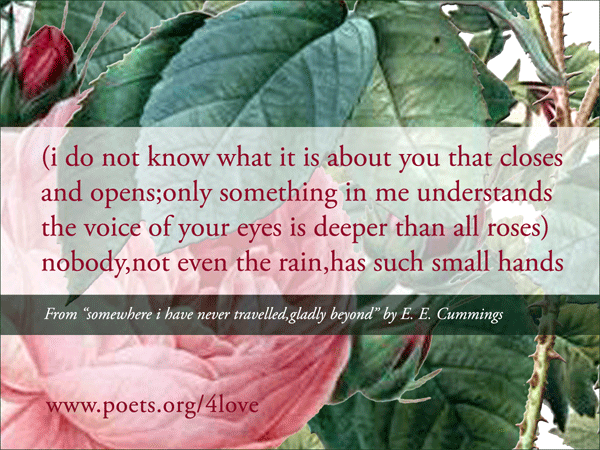 somewhere i have never travelled, gladly beyond
any experience, your eyes have their silence:
in your most frail gesture are things which enclose me,
or which i cannot touch because they are too near
your slightest look easily will unclose me
though i have closed myself as fingers,
you open always petal by petal myself as Spring opens
(touching skillfully, mysteriously) her first rose
or if your wish be to close me, i and
my life will shut very beautifully, suddenly,
as when the heart of this flower imagines
the snow carefully everywhere descending;
nothing which we are to perceive in this world equals
the power of your intense fragility:
whose texture compels me with the color of its countries,
rendering death and forever with each breathing
(i do not know what it is about you that closes
and opens; only something in me understands
the voice of your eyes is deeper than all roses)
nobody, not even the rain, has such small hands
~ e.e. cummings
I call this poem, in my heart of hearts, the greatest love poem.  It came to me in my college days, presented to me by Big Friend before I knew the trajectory our lives would take alongside one another, and I felt then that this love poem spoke deeper than all Valentines, than any love letter I could compose, than any lines of love penned by even Shakespeare.
The beautiful simplicity of the words and images–opening clenched fists in the presence of a kindred spirit, a rose closing delicately to protect its heart from snowfall, the smallest touch of a raindrop–speak of the fragility of love.  A kind of love that is so small, so delicate, so commonplace even that it could certainly be overlooked by someone who wasn't the hand, the rose, or the rain.  Yet for the souls about whom the poem is written, nothing can move them like the other.  They are a call and response to each other down to the very fiber of being.  And this, I think, is love.
It is the love that wakes up next to you with morning breath.
The love that can share a look across the room and speak paragraphs.
The love that hands off a soapy, slippery child from the bath knowing waiting arms will catch it in a towel.
The love that can forgive and forgive and forgive again the lashes of cruel tongues.
It is the love that comes home to you each evening.
The love that remembers how you looked then and loves you more for how you look today.
The love that becomes an extension of yourself.
And I believe Cummings' poem is indeed the greatest love poem because now that I re-read it, years after the heady days of courtship and roses, I see more than just the romance of love in it.  The poem speaks of the truth of love, because true love is not something found just between lovers.  True love is a separate entity.  A river, perhaps, that we tap into and sip from with lover and spouse.  But it's also a river siphoned off with dearest friends, with our parents, with our siblings, with our children.
It is the love that changes the sheets on your bed.
The love that sees your temper tantrums at their worst and still offers a hug at the end.
The love that sees you unashamedly unshowered.
The love that tops your list of birthday invitees.
The love that couldn't care one whit about your muffin top.
It is the love that brings gifts of your favorite cookies, or dandelions, or fashion magazines just because.
The love that you know waits beneath you as a safety net no matter how high you climb.
If we are fortunate in life to love and be loved as Cummings writes of love, we may find that nobody, not even the rain, has such small hands as our mother, father, sister, brother, daughter, son, husband, or wife.  We dare not chop up love with limb-severing butcher strokes to fit in a box labeled "romance".
May we always have such a soft, beloved heart that we can say to someone, somewhere in our lives, "you open always petal by petal myself as Spring opens (touching skillfully, mysteriously) her first rose."
That opening of ourselves, skillful and mysterious, that is the greatest love ever written.