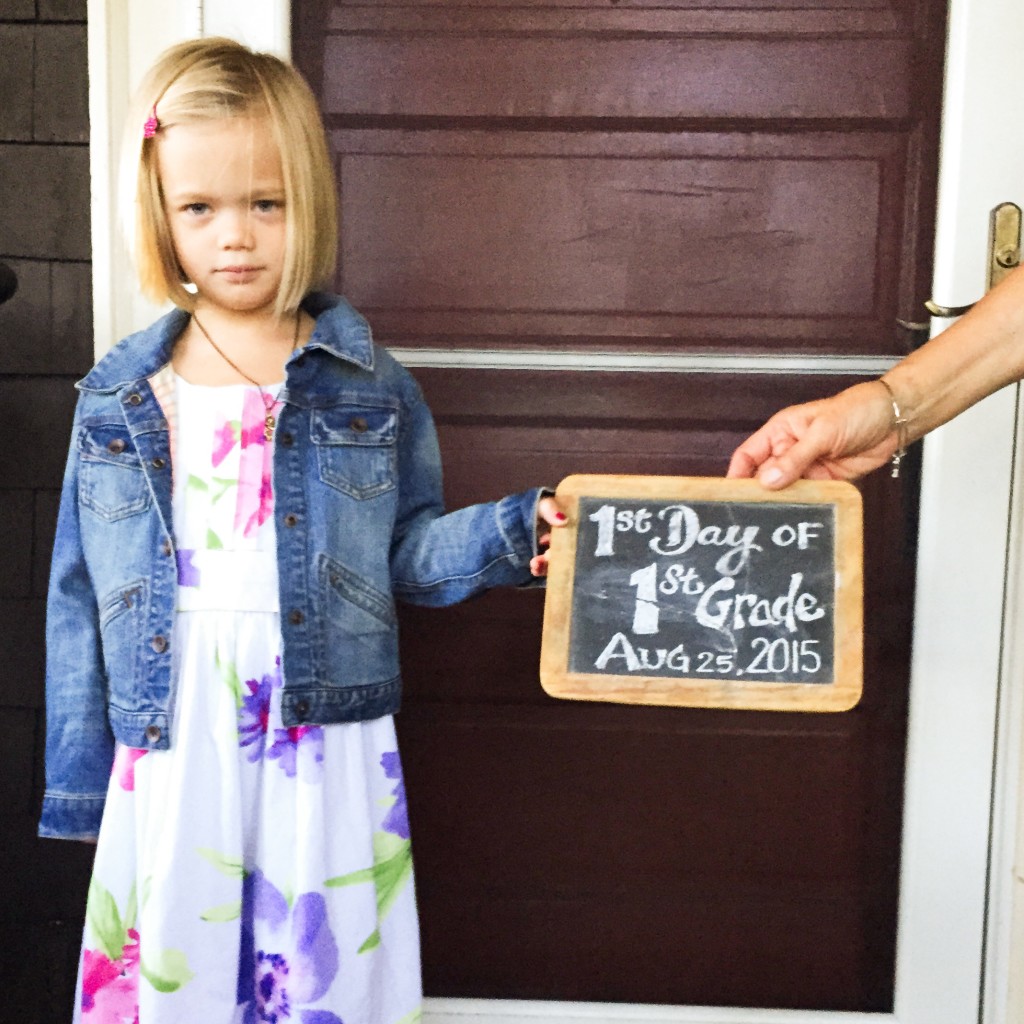 It's something you just gotta do, kid.  One foot has to be placed in front of another, up the bus steps, and back down into that brand new school building surrounded by the surging ocean of elementary school bodies.  You will not be alone for one step of the way.  Except that you will.
We sent her off with a note in the lunchbox, a shine to her shoes, a point to her pencils, and a shove onto the bus.  Tears dripped off the down-arrows of her mouth.  I'm sure in her six-and-three-quarters years on this planet she has never felt more alone.  Even with a fellow first grade friend sitting next to her on that behemouth bus, never felt more alone.
In her first day of school experience, she was alone.  Surrounded by people and activity, still alone.  She was the only one battling her unique combination of fears: new kid, new teacher, new school, where to sit?, what to eat?, which bathroom to use?, what recess game to play?, missing mom, missing dad, missing cuddling on her bed in the early afternoon listening to her audiobooks, missing her gymnastics leotard, missing a sister to shove, fight, bite, and hug.
We sent her out alone, our one and only precious little girl, to that surging ocean and expected her to come sailing back, whole, happy, and healthy.
And she did.  Alone, she conquered.
Sometimes we must strike out alone.  We must step into the unknown, not because we're brave enough or big enough to do it alone but because the shoving hands behind us leave no other option.  We face the fears alone, the crowds alone, the expectations alone.
That lone success, though, seems to depend quite a bit on the ghostly feel of hands pushing from behind.  We can go forth alone to conquer because we remember the people who believe in us, who expect us to rise up and do more than we want to do, who will cheer for us no matter the outcome, who believe us precious not because of what we do but because of who we already are.
After I shoved her off into the gaping maw of the school bus, I walked home alone.  Husband beside me, but alone.  The only mom on the sidewalk sending her first grader off to a new day in a new school for a new start.
Waiting in my kitchen, I found my own mom, visiting for the week, knowing I'd need a hug the moment I set foot in my front door.  Hers were the hands that gave the six-and-three-quarters me the shove onto my first grade school bus.  Hers were the hands that shoved me into my college dorm room, and onto a plane for a first trip to Europe, and down the toile-draped church aisle.  As much as I've had to strike out alone in life, I've always gone with her warm handprints on my back as a reminder of where I come from and where I am loved.
So we soldier on, first grader and mom of a first grader, conquering the Big Life Things not because we have some superhuman ability but simply because we have the reminders of people around us who will always be there, always, even when we're alone.
---
This post is inspired by and shared with the writing community of Five Minute Fridays.  In full disclosure, today was a Fifteen Minute Friday for me, but a topic worth bending the rules for!