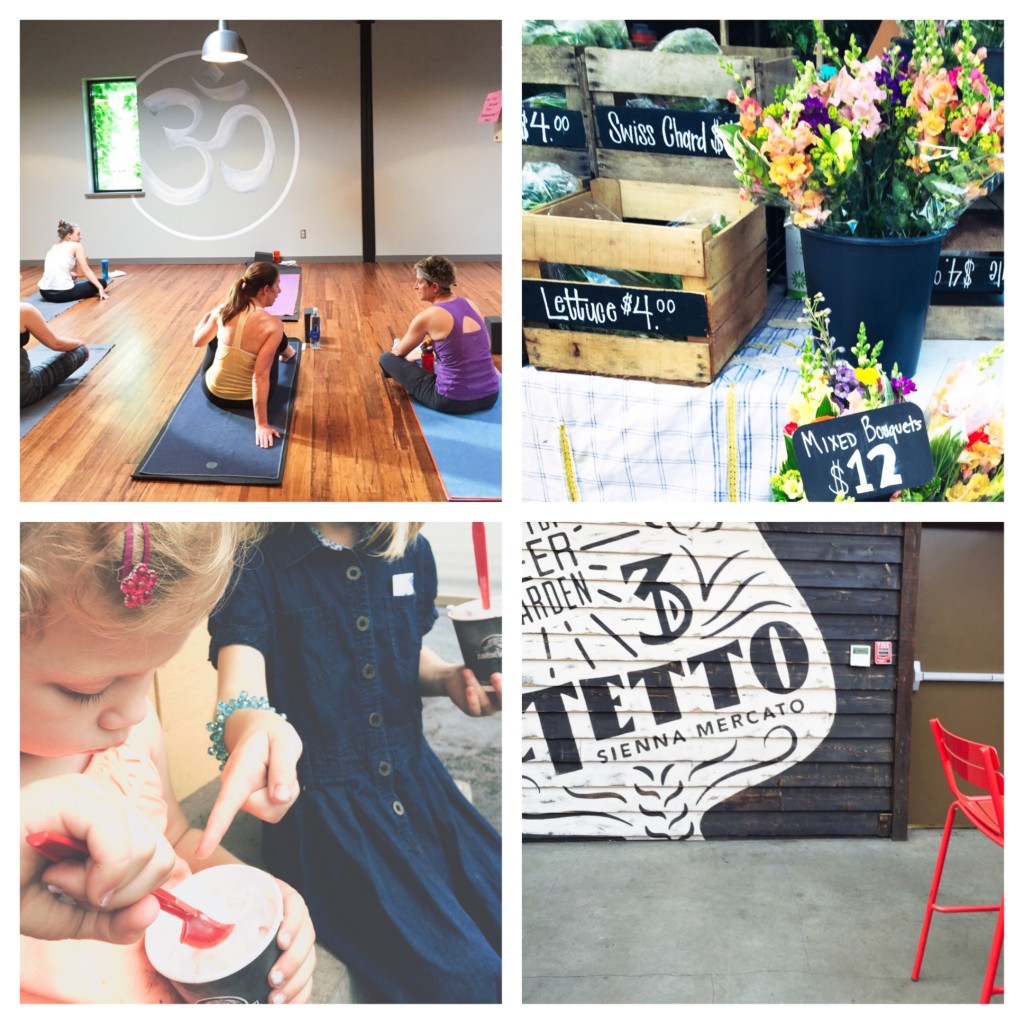 Salt Power Yoga in Sewickley | Sewickley Farmer's Market | Sisters sharing Blizzards | Rooftop beer garden at Sienna Mercato in Pittsburgh | Flora and Ulysses | The Civil Wars | Naptime Diary journal | The Bone Clocks
There's not much better fuel to get a weary mama revved and chipper to greet Monday morning than some weekend time away from children.  Of course, said children are lovely and sweet and total converts to strawberry cheesecake Blizzards (Daddy's coping mechanism when Mommy's away), but also occasionally whiny and temper-tantrumy and needy.  So.
My rejuvenating weekend included a session of hot yoga at Salt Power Yoga followed by a visit to the local farmer's market.  (If you're wondering if you can show up dripping sweat–literally–to a farmer's market without drawing too many stares, the answer is either 1.  yes or 2.  you're too wrung out to care.)
Saturday popped up with an afternoon thunderstorm that just begged me to bring a book to our front porch swing.  Last week I finished reading The Bone Clocks by David Mitchell.  I'm currently reading Flora and Ulysses by Kate DiCamillo, who must be one of the very best modern writers.  Her words are surprising and fresh and wryly funny.  My summer devotional picks include the Naptime Diary, a journal full of inspiration and rejuvenation for moms.
As if I weren't already overdosing on uncommon time away from family, yesterday I lunched with two of my longest-term (is that a thing?) best friends, one of whom drove two hours to enjoy a day of outlet shopping, margaritas, meatballs, and conversations about everything from sleep to sleepovers.  For dinner, we joined a group of simply fabulous women gathered at Sienna Mercato to enjoy drinks at the rooftop beer garden and bowls of saucy meatballs.  I made myself pause a few times during the evening to literally sit back, watch the nine women–all of whom knew some but not all around the table–and drink in the moment.  These women are funny and diverse and authentic and their stories about "Tell something no one around this table knows about you" had us gasping and howling.  Girls' night is a wonderful thing.
I was struck by Shauna Niequist's words as I read her devotion from Savor this morning: "Whether you're headed to your own wedding or to a neighborhood barbecue, coffee with friend, or dinner with your family, the most important thing to bring is a present heart."
As we all begin our week, I wish you present hearts and a happy Monday!