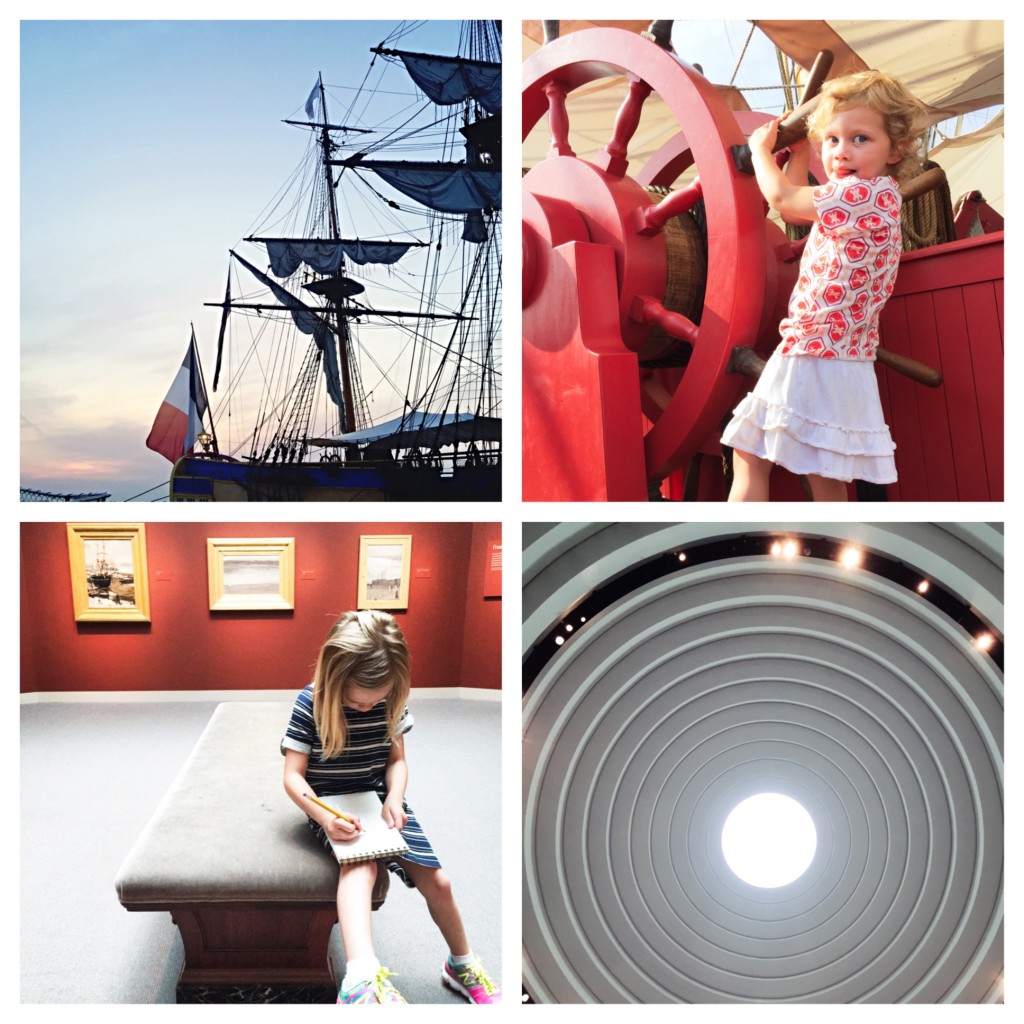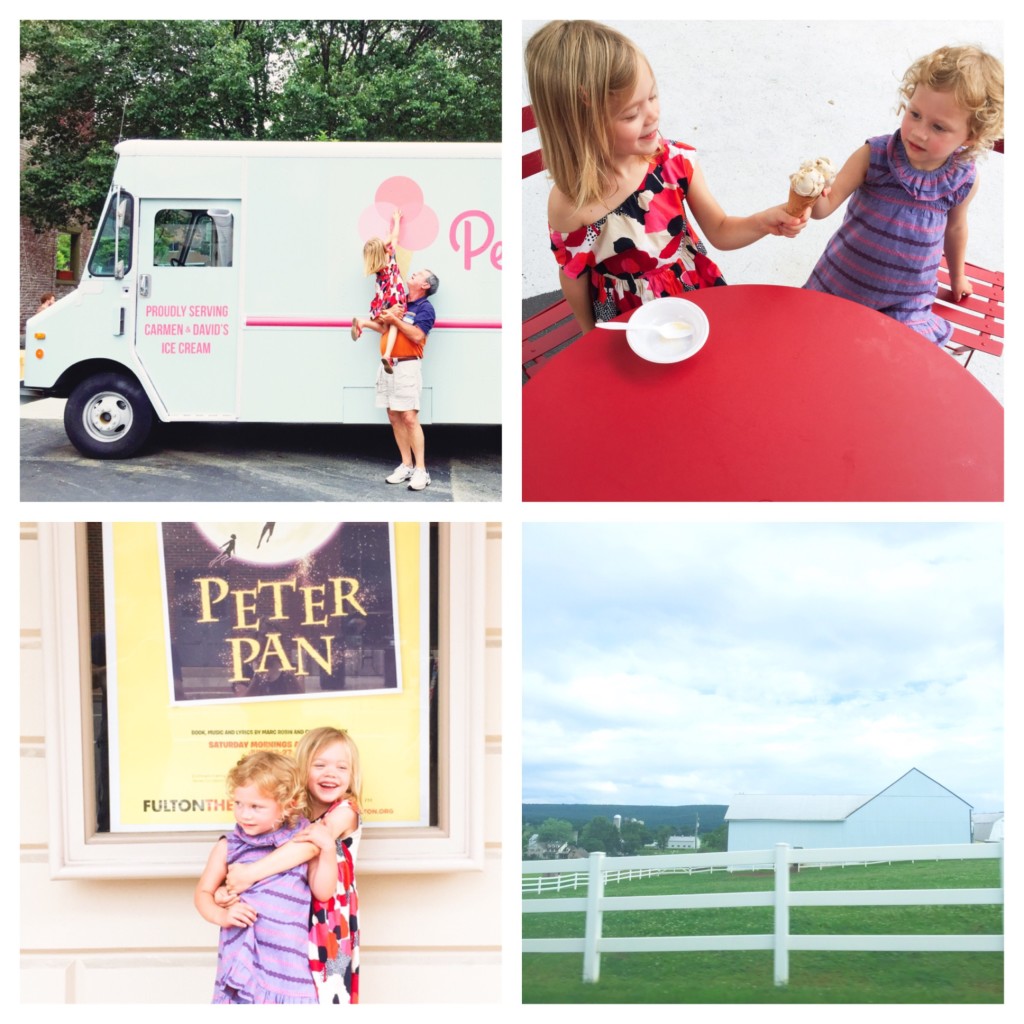 The Hermione at port in Alexandria, VA | Miss C takes the wheel | Miss I sketching at The Freer-Sackler Gallery | Smithsonian Museum of the American Indian | Penny's Ice Cream Truck in Lancaster City, PA | Toasting with salted caramel cones | Peter Pan at The Fulton Theater | When in Lancaster…
Visiting The Hermione this weekend, an exact replica of Lafayette's 1780 warship sailing from France to multiple stops along the American coast, has inspired an item on my bucket list: crew a 1780's frigate across the Atlantic.  I'd love to feel the deck buck beneath my feet, hear the snap-crackle-pop of sails, and smell the liturgical odor of pitch and hemp ropes suturing the lines of this ship.
With kindergarten graduation behind us, we kicked off summer freedom with a long weekend trip to Washington D.C. and Lancaster.  Based on the unerring recommendations of my friend Rebecca who has made it her (and her kids') life passion to leave no corner of her native state of Virginia unexplored,  we had the fabulously unexpected delight of discovering Smithsonian's Museum of Asian Art, The Freer-Sackler Galleries. (Hint: take a book with you and pass some quiet moments in the Freer's hidden atrium.)
We lunched at the diverse and delicious National Museum of The American Indian cafeteria, spent our afternoon building with giant blocks at the National Building Museum, and were initiated into the cult of Pho at Caphe Banh Mi in Alexandria, VA.  (Thankfully, Rebecca, her husband Jack, and all three of their children under age 8 are Pho aficionados and told us exactly how to pronounce the word, what to order, and how to eat soup with spoon and chopsticks.  I know, right?)
The main reason for this early-summer trip to D.C. was that warship begging me to pack a bedroll and hammock: The Hermione.  Docked at Alexandria, VA for two days, The Hermione gave away free tickets, at least to those of us crazy enough to wake up at 4:45 and wait in line for four hours to walk the gang plank and oggle at the sheer size and complexity of the ship.  Starbucks latte was a welcome anachronism, and come 9:30 am, we were all searching for some Ben and Jerry's ice cream to cool down.
On our way from Washington D.C. to Philadelphia to visit family, we stopped by the Claude Moore Colonial Farm in McLean, VA which is farmed according to 1771 practices down to the minutest detail.  We left with a greater appreciation for flush toilets, grocery stores, air-conditioning, and cars.
Why do I love trips to D.C. with little kids?  The words "free", "air-conditioned", and "something for everyone" come to mind.  Two days are enough to saturate us with art, history, and activity, and still leave with plans of what to experience next visit around.
We took another two days to visit family, take in Peter Pan at The Fulton Theater, and make multiple ice cream stops on our way through Lancaster County.
It was just the kind of whirlwind trip to make me appreciate the world with bigger, brighter eyes and cherish the spot I come back to and call "home."  As we make intentional decisions to give our kids more experiences, even if it means giving fewer "things," I'm inspired by Ray Bradbury's take on travel: "Stuff your eyes with wonder, live as if you'd drop dead in ten seconds. See the world. It's more fantastic than any dream made or paid for in factories."
Happy Monday, and may your summer week ahead be stuffed with wonder!