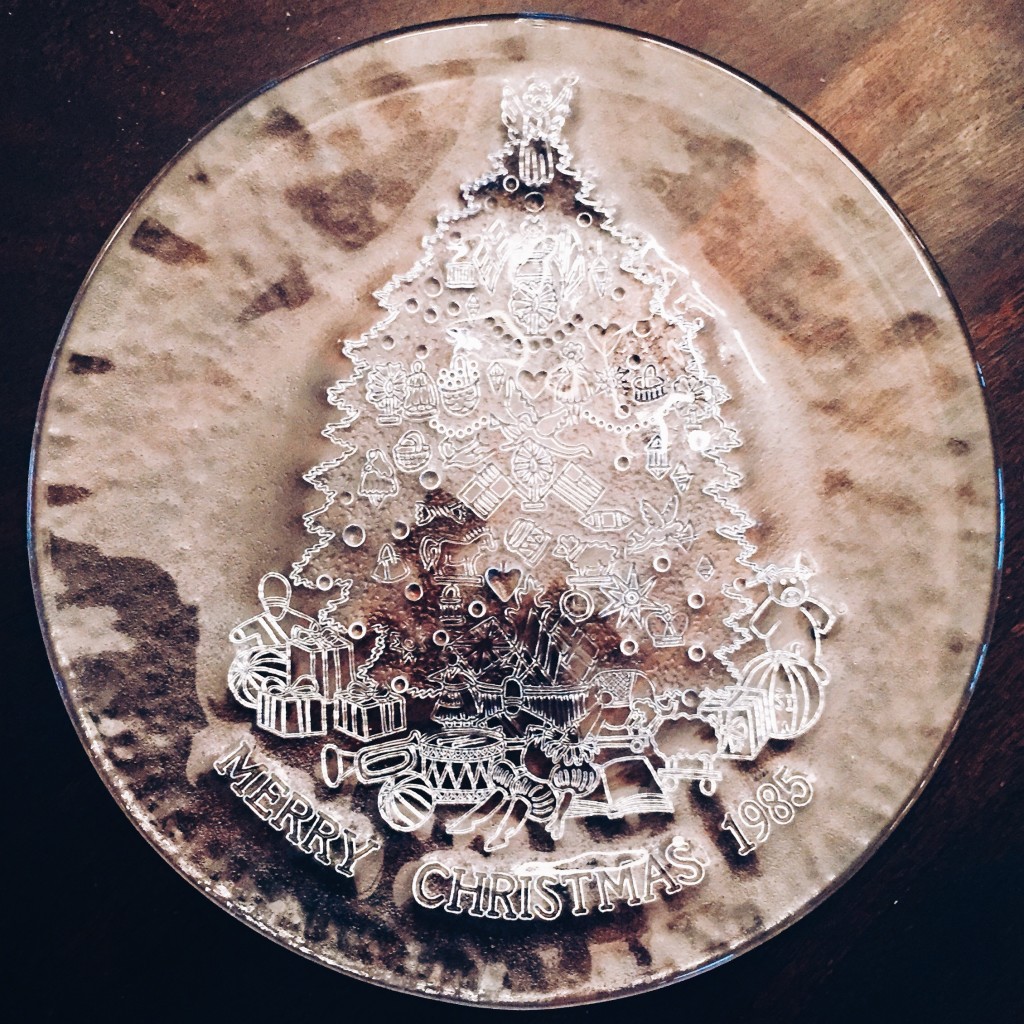 Christmas cookies taste like security.  When I was growing up, my grandmother made sure all of our festive cookie needs were met with a dash and panache of silver and Waterford crystal.  As soon as dinner dishes had been cleared to the kitchen and our squiggly bodies were temporarily restrained by the promise of dessert, we'd gather back around the dining room table, and, wonder of sugary wonders, a two-hands-necessary cut glass platter would emerge, crowded with 52 different varieties of cookies.
Pink and white candy-cane twists of sugar cookies.
Sugar-rolled, peanut butter-stuffed dates.
Powder-sugared Mexican wedding balls.
Green cornflake-marshmallow-treat wreaths with red hot berries.
Chocolate fudge.
Peanut butter fudge.
Chocolate-peanut butter fudge.
Peppermint fudge.
Spiced pecans.
Snickerdoodles.
Snowy meltaways with hidden centers of chocolate chips and crushed peppermint.
Peanut butter blossoms blooming with Hershey's kisses.
These cookies were available all Christmas-week-long in large tins stacked in towering skyscrapers on the buffet.  I can still hear the scritch-whoosh of the tin lids opening as we spelunked for our favorites.  But dinnertime at a table dressed in snowy white linens called for an especially fancy cookie service.  My grandmother knew how to do fancy right.  We children had to sit on our twitching hands to keep still enough as we watched the slow, deliberate progress of the cookie platter around the table.  The cut glass sparkled in the candlelight of white tapers carried on the backs of brass reindeer candle holders.
After dinner, we tumbled from table to street, adults and children spewing forth from my grandparent's front door to stroll down the street and back, my grandmother citing the need to walk off the cookies.  As she walked, she'd pass along her latest health tidbits gained from Prevention magazine (the wonders of ginger, the 7-minute walk, ginseng).  We kids ran back and forth between mailboxes and the slow-paced clot of grown-ups.  The North Carolina evening squeezed us between a fragrant carpet of white pine needles and a dam of grown-ups who protected our little crew of mailbox racers from the older worries of calories, cooking, dishwashing, illness, old age, memory loss, and the effects of too much sugar.
I'll never stop missing the protection of my dam.  Or the hands that prepared the cookie platter.
I look at the towering skyscrapers of my childhood cookie neighborhood with nothing short of awe in my adult eyes.  The bags of sugar, the cups of peanut butter, the cookie sheets baked for 10-12 minutes a shot, the spatulas and mixing bowls needing to be cleaned and employed again.  My grandmother invested hours upon hours preparing our Christmas cookie feast.  I appreciate now  exactly what she baked and served each Christmas season.  I didn't know, at the time, that I could scritch-woosh a lid and bite into her love.
I can't call her up and ask, but if I could, I think she'd agree that I'm following a bit in her culinary footsteps.  I like to cook, and more importantly, I like to present my loved ones with something fun and fancy and nourishing to the eyes and soul.  At this stage in the game, with a six and three year old at the dinner table, I serve some simple fried cornmeal fish (for them) with an orange-apple cider-ginger glaze (for me).  I try to make cooking a creative outlet rather than a daily grind.  I think back to my grandmother standing in front of her mixer, preparing to roll and twist three dozen candy cane cookies, and I know, I think, that she was doing the same.  Creative outlet for her, a lifelong love of Christmas cookies for me.
As adults, isn't this the greatest gift we can give to the littlest souls in our lives?  The gift of protection, of nourishment, or expectations always met and sometimes exceeded?  The certainty of belief that Christmas cookies galore will magically appear and there will always be enough to refill the platter?  I can think of nothing better to describe the magic of childhood.  Pass the sparkling platter, take a piece of fudge and two peanut butter blossoms, and escape into the balmy evening to run as far as your tether comfortably extends into the pines and then come back to the grown-ups who shield and protect and bake a gazillion Christmas cookies because of Love.