Anna Watson Carl makes me want to down Blood Orange Cilantro Mocktails.  And throw a Gnocchi Face-Off for NYC powerhouse foodies.  And flit off to a Valapariso, Peru vacation.  She's that cool.  She's also the warmest, most genuinely selfless, wisest, funnest (yeah–that's a thing), loveliest person I've had the pleasure of calling a dear friend.  Since I fell in love with Anna back in college (who wouldn't love someone totally killing it in a thrift store tee, chunky glasses, tousled hair, and toting a violin case to practice with a band?), I've adored every minute I've spent with her.  She's that inspiring.  She shares her food, love, and life inspiration with all who pull up a chair to her iconic yellow table in her amazing New York City apartment, and, lucky us, she invites us all to her table at her blog, The Yellow Table.
Can you tell I'm a bit excited about this?  I'm guest posting today at Anna's cyber home, The Yellow Table.
I'm thrilled and a little nervous to be sharing Six Tips for Healthy Toddler Tummies.
In my post, I confess to feeding my baby kale.
And only buying cereal once a year.
And letting my child play with open flame on the stove.
But you know what else?  Little Friend and Little One love lacto-fermented pickles.  And they both eat kale.  So something's working for us, right?
Plus, I include my go-to recipe that kids love and parents adore (because it has beans, greens, tomatoes, and chicken stock—shhhhh-don't tell the kids).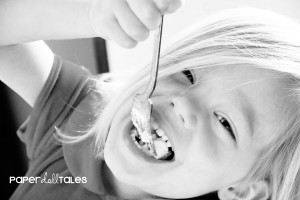 Here are my Six Tips for Healthy Toddler Eating Habits, compliments of the fabulous Anna Watson Carl!