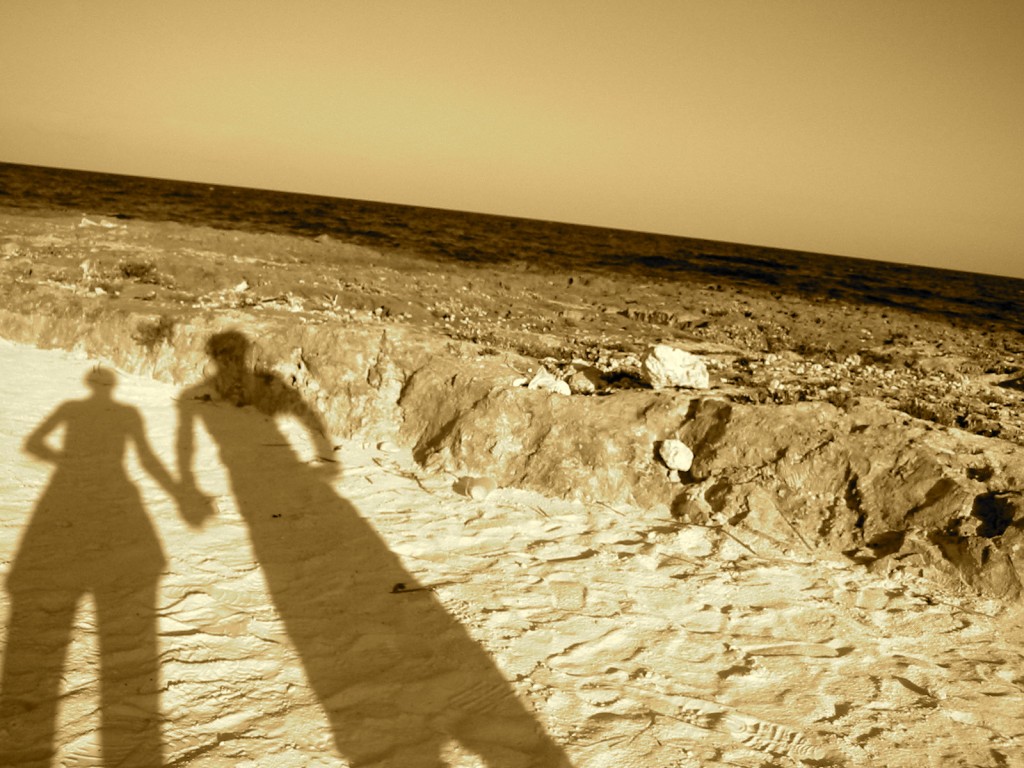 You'd think after ten years of living life alongside one another, we'd have more pictures of ourselves alongside one another.  The fact of the matter is, we have lots of recent pictures of kids.  Of him with kids.  Of me with kids.  Of kids with kids.  But a scanty pictorial chronicle of our recent years together.
Spin back through ten years of iPhoto pictures, and the balance shifts.  Lots and lots of pictures of us.  Him and me. Fabulous trips.  Delicious meals.  Goofy adventures.  We were in the "falling" part of love.  That initial love that we tumble into is a narcissistic love.  We gaze at our beloved with rapt wonder that someone so perfect could exist.  We–he and I–become the center of each other's worlds.  The center of the photograph.  The subject matter that the camera lens just can't break away from it's that magnetic.
We should fall in love exclusively.
We should continue in love by falling in step with one another.
Over the past ten years, including the recent years which seem to have a scarcity of couple pictures, he and I have merged lives together in a way that splits us apart in pictures.  He empties the dishwasher while I brush wispy hair into ponytails.  He chaperones the swing set while I commandeer skillets and pour milk.  He holds tight to small hands against the suck of ocean surf while I stand behind a camera lens and click away.
The lack of our recent photos of us–him and me–now that's something to cherish.  It means we've weathered the narcissism and obsession of the early years.  It means we've found our balance with one another knowing that together we can cover more ground than a mere camera lens can capture.
I'm glad to have fallen into this love and life with him.  I'm glad that in or out of pictures, we're covering a lot of ground together.  I'm glad that love is no longer something rare we've discovered and hoarded but rather has stretched to become something like a Snuggie–warm, comfy, and large enough to accommodate two people with some room to spare.
Happy anniversary, my Big and Best Friend!
This post is gratefully inspired by and shared with Lisa Jo Baker's Five Minute Friday!