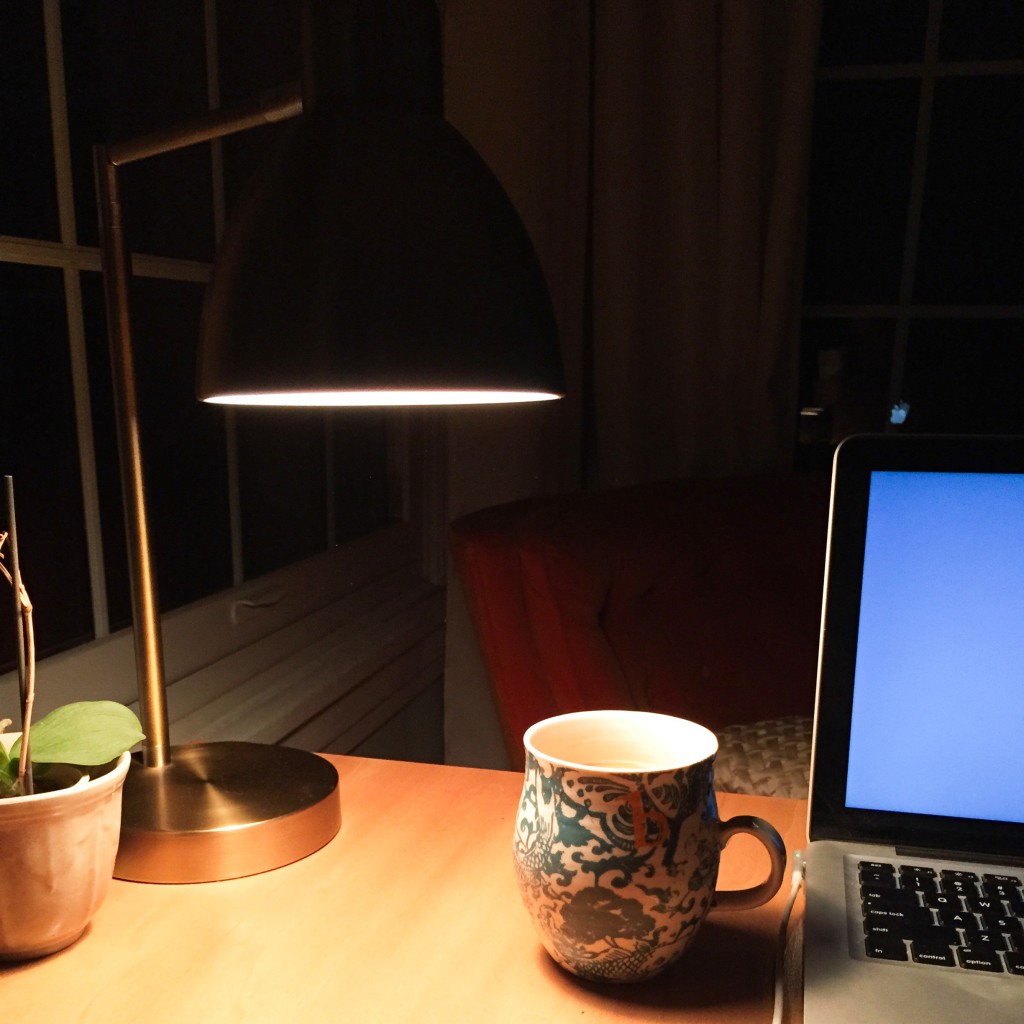 It's 6:52 am and I watch the college student in orange parka and backpack walk to the fluorescent-lit corner bus stop and I watch the Pittsburgh Port Authority bus arrive with lights blazing like Santa's sleigh.  The bus takes a breather, then hums forward, the rectangle of flat-white windows showing a comic-strip student's progress down the aisle to the seat three from the end where he gives that practiced slump of shoulder that slides the backpack beside him.  The bus vanishes in the dark that cannot yet be called morning.
This is the present.  It glides in and out with seldom more than a hum to alert us to it passing.  It is beautiful in its still-life images of orange coat and black backpack and bus lights blazoning the darkness, and I miss it most every morning of my life.
Last night I had the first of many big heart-t0-heart bedtime conversations with Miss I.  It needed to be said that after three exhausting days of her picking on me, picking on her sister, I was tired, and I missed my sweet girl.  Turns out that my sweet girl has been turned bitter by Star Wars.
"Mom, Star Wars is the Thing now," she says, laying emphasis on the Thing, by which I know to put Star Wars in the category of all the Things of my life: slap bracelets, spiral perms, Jansport backpacks, Keds sneakers, Ugg boots, Seven jeans, Sorel snow boots.
A Star Wars Club has been formed at recess at school.  All of the first grade girls belong.  All, except Miss I who has been spending her recess time with one other friend, playing board games in the gym.  Yesterday, that one remaining friend joined the Star Wars Club.
Miss I has never seen Star Wars.
"Mom, you have to like Star Wars, and I only know one character!  And you have to have a Star Wars thing on your backpack.  And you have to win Lucky Tray Day in the cafeteria 10 times.  And you have to have $100 in your bank account."
I'm skeptical about this club's rules of membership.  But we tackle the list.  We can watch Star Wars.  We can go shopping at any of a number of stores that may carry items of the Star Wars variety.  We can downplay the Lucky Tray Day lottery.  We can work dollar by dollar on that bank account.
"And next year, Second Grade doesn't have a Star Wars Club.  They have a Shopkins club, and you have to have 75 Shopkins to join, and I don't have that many, I don't even know where most of mine are!"  It's a run on sentence that trips over itself spilling from her mouth.
I thought we had enough trouble dealing with Star Wars.  How'd Shopkins get added to my worry list?
It jumped in there from tomorrow.
It trespassed on my present.
No different than my own worries about how to pay for tomorrow's vacation or handle tomorrow's test results or negotiate tomorrow's packed schedule.
It is so hard to isolate myself in the present.  The present is as delicate as a bubble.  But in it's moment of glory, the present can be a powerful bubble; in the moment's blink it takes to watch an orange coat disappear in a white strip of bus, tomorrow's Shopkins and schedules simply don't have sway.  The present can be so complete, so beautiful, so encompassing, that if I am patient with myself and stop long enough to notice–really notice–the depth of darkness at 6:52 am, I am at peace.
I've got paralyzing mama grief and worry picturing Miss I alone at that recess board game, shoving first one car and then another car along the paths of Life (metaphor intended), spinning the dial over and over and over for consecutive turns.  I don't know how to fix that present.  It's not a pretty picture.  Life needs at least two players.
But I also know that the present doesn't need tomorrow's worry jumping in to play today's game.
"Therefore do not worry about tomorrow, for tomorrow will worry about its own things.  Sufficient for the day is its own trouble," said Jesus (Matt. 6:34), and if anyone I know has had troubles piling up and lurking in tomorrow, it's Jesus.  Yet He felt no need to get a head start on worrying about them.  Today was enough to handle on its own.
I tell Miss I this insight in some sort of first-grade paraphrase, and I remind her of a little hand-motion poem we've learned in our Bible study–one word for each finger: "God is with me always."
I say it and know that her head is still spinning with Lucky Trays and Shopkins and impoverished bank accounts, but the message gets through to me.  It's about the present.  Where I am right now, God is (present tense) with me.  Two players at this game of life. I can go ahead and spin that dial and know wherever I land, I can pause in that present and appreciate it for the moment it is, not rush on to worry over the moment that must come.
As for today's to-do list: I'll admit I've given thought to collecting all those missing Shopkins from the dusty, forgotten corners of my house.  We've got a big Second-Grade goal to work toward.
---
This post is inspired by and shared with Five Minute Fridays, but in full disclosure, this is one post I couldn't limit to just 5 minutes.