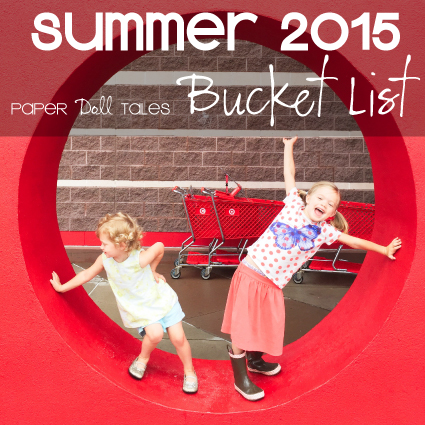 So here's my philosophy on a summer bucket list:  it's meant for inspiration, NOT guilt trips.  Which means, I fully intend to leave boxes unticked by the end of summer.  This is not my "to-do" list, which comes with corresponding box-fulls of guilt if items go unattended.  A summer bucket list should provide plenty of fodder to fill the "what should we do today?" hours and still have some juice left over to jump start 2016's list.
In my summer bucket lists, I try to cover things to play, things to make, things to eat, and places to go.  Some items are all about kids, some about family, and some about the grown-ups.  Basically, it's my once-a-year purge of my Pinterest boards.  (And THAT is an item I can check off the "to-do" list.)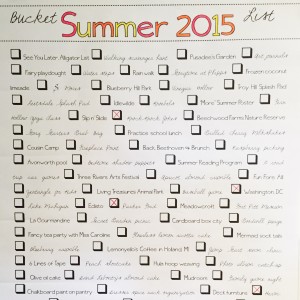 Some of my Summer Bucket List 2015 items will only work for you if you live within driving distance of Pittsburgh, but many can be adapted to your neighborhood, wherever you make home.  I hope we have some plans that inspire your plans in Summer 2015!
If this list is just too long and gaaaahhhh! for you, my other favorite approach to a bucket list is Let's Explore's monthly 10 Ways to Play list, which I print and stick on my fridge for easy inspiration and motivation.  The activities are fun, doable, and open-ended.
Even simpler, our go-to, year-round activity inspiration is Kiwi Crate (get $10 off your first box with that link), which delivers carefully curated educational crafts and multiple extension activities to our mailbox each month, but also don't miss their awesome (and free) Kiwi Crate Corner app for your phone that will give a gazillion ideas of play, make, or do at the swipe of a finger.
---
Download a Printable Summer Bucket List 2015 from Paper Doll Tales
Which boxes will you tick off this summer?
---
Play
Learn the full See You Later, Alligator list
PNC Water Steps
Rain walk
Storytime at a local library
Dollar movies at local movie theater
Visit a park in a new neighborhood
Splash pad
Family yoga class
Slip n' slide
Learn new knock-knock jokes
Visit local pool
Sign up for summer reading program at library
Baseball game
Fancy tea party with neighbors
Swim classes
Family games night
Read outdoors in tents
Stream stomping
Bowling
Summer ice skating
Make
Cardboard box city
Milk rainbow science experiment
String telephones
Home
"More" summer, more love poster
Goodwill purge
Chalkboard paint on pantry doors
Dresser spice rack book shelves
Create mudroom
Catch up on family photo albums
Build deck furniture
Read Tinker Lab
Read The Artful Parent
Subscribe to Family Fun magazine
Organize art shelves in playroom
Learn how to fold fitted bedsheets
Eat
Smitten Kitchen's Frozen coconut limeade
Taste test sandwich-free school lunch options
Raspberry picking
Picnic lunch
The Yellow Table's strawberry (or peach) shortcakes
Blueberry crumble (extra blueberries)
Nourished Kitchen's Yogurt panna cotta with honey roasted strawberries
Simple Bites Rhubarb cornmeal muffins
Travel
Hike to a waterfall
Zoo
Visit a French bakery
See a Children's Theater play
Amusement park
Try a new restaurant (we're opting for Pusadee's Garden)
Beechwood Farms Nature Reserve
Washington, DC
Holland, MI