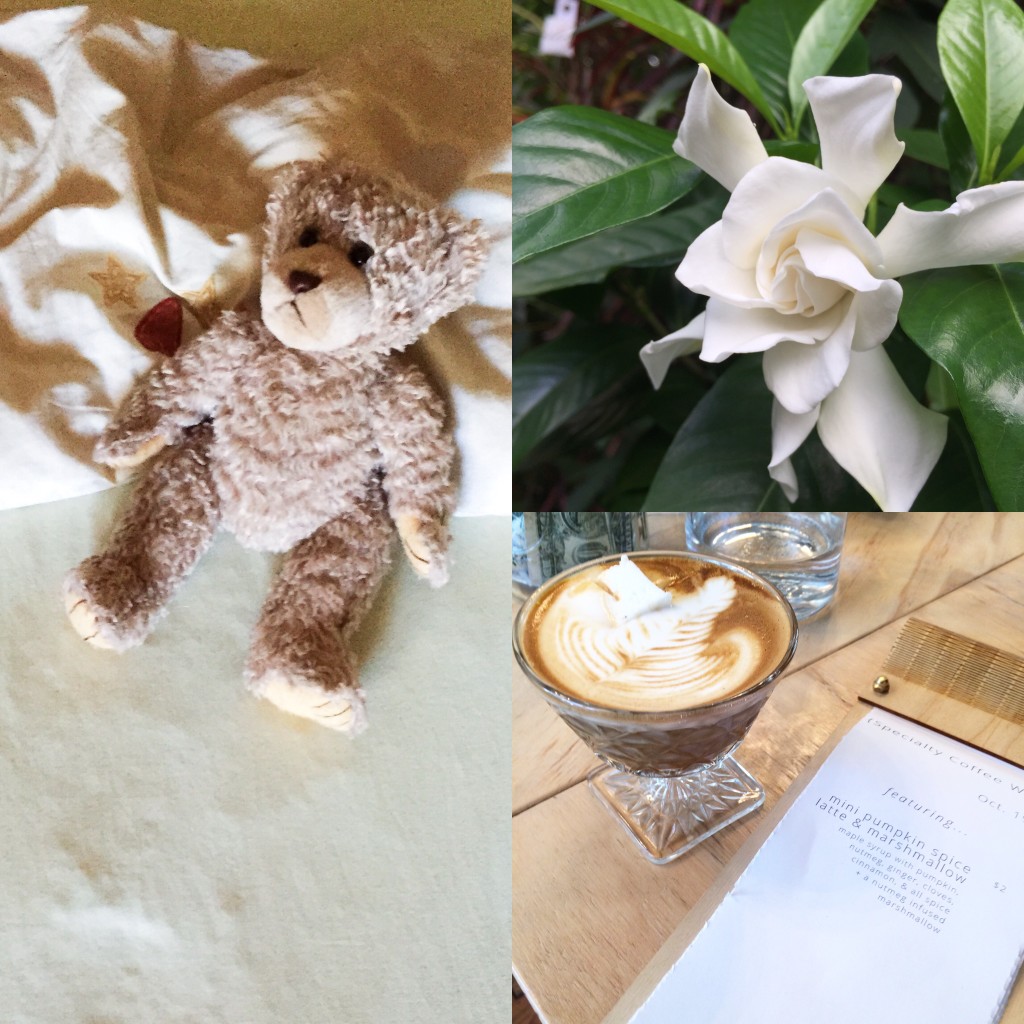 There's the white gardenia that I almost brushed by unseeing as I walked with nose up in the air seeking butterflies.
There's Gary the Teddy parked on Little C's pillow for the afternoon while she burns energy like a nuclear power plant at preschool.
There's the nutmeg-infused marshmallow floating in the pumpkin spice latte, available this week and this week only, from a favorite boutique coffee shop.
These are the temporary things.  (The marshmallow probably the most temporary of all, should my mouth have any say in the definition of the word.)
These are the things that bring beauty, comfort, rest, and joy to my little life.  My life of a temporary moment.  I can press the flower, put Gary on a high shelf, and Instagram that latte art.  I can try to make them stay, but the truth is they only nourish and sustain me in the very present moment as I brush by them.  The magic cannot be pressed, preserved, or projected forward, no matter how much I'd like to reminisce or cling.
I sit at my desk now, watching the timer tick off my 5 minutes of writing.  My coffee mug sits in between my arms and keyboard.  The afternoon sun paints a stage around it.  Green leaves, still hanging onto a stubborn summer self, cast trembling shadows across my fingers.  This is all temporary.  The coffee grows cold.  The timer expires.  The tree leaves must orange, brown, and at last drop.  But I don't know any of that yet.  I suspect, but I don't experience it.
Temporary tricks me into thinking permanence for this very moving, shifting instance.  And for that, I love temporary.  And for that, I lick my fingers from marshmallow stickiness.  Because who knows how I'll feel about it a moment from now;  for this temporary instance, that marshmallow is divinity in motion.
---
Day 20 of 31 days.  For the month of October, I'm joining in on 31 Days of 5 Minute Free Writes.  Following the rules to write an unedited response to a prompt in 5 minutes, I'm grateful for the challenge of Write 31 Days.