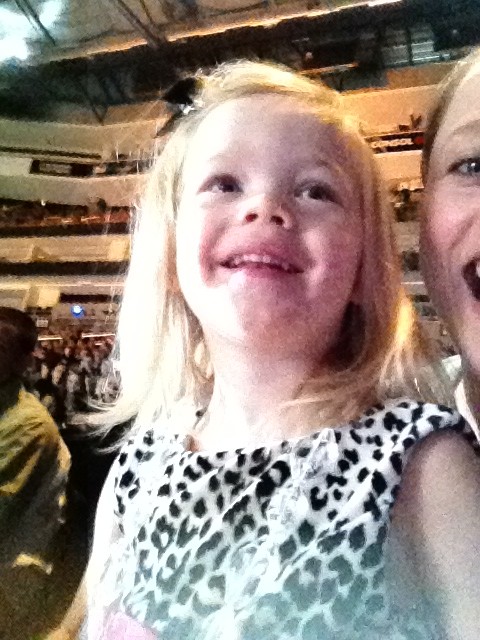 This is the face of someone seeing Disney on Ice from a front-row seat.  All those Snow Whites, Tinkerbells, Peter Pans, Wendy, Alices, and Mickeys whirling, twirling, and dancing in death-defying leaps around the ice.  It's enough to blow a four-year-old introvert's mind back into a safe dark cave from whence it will peek from time to time with a flash of a smile or dart of the eyes to see if the spectacle is still underway.
The extraordinary event of a first Disney on Ice will be a cherished memory for Little Friend and for her mama who was most entranced watching Little Friend's face through the proceedings.
It was a fabulous evening of clapping, sighing, screaming, and smiling.  I saw Little Friend glitter with real-life fairy dust.  After the Disney extravaganza, I slipped her back into ordinary life, tucking her into her Tangled sheets, brushing her teeth with her Cinderella toothbrush, promising to pretend Wendy and Peter in the morning.
The day after Disney on Ice was ordinary.  In between diaper changes and putting away laundry and shoving bathroom products back into drawers, we had visits from Simba and Alice and Aladdin and Snow White and Wendy, all of whom put on ice skates with a "click-click" and maneuvered loops around the bedroom carpets.
Between me and the Disney on Ice program that cost half a kidney (we're suckers, us parents at Disney on Ice, dragging our daughters dressed as Princesses past the stalls of Disney paraphernalia), I'm sure we'll remember that spectacular, out-of-the-ordinary evening.
But the ordinary days made up of ordinary moments are so deliciously comfortable, if we stop to take note.  At the time, those laundry piles and cluttered bathrooms seem like an annoying interlude between acts of greatness.  Yet the interlude is essential to build excitement for the coming act.  Let's not rush through the ordinary interludes.  Let's take note and appreciate for what it is: I've got front row seats to Simba on Ice and to Little Friend/Baby Simba whirling around the nursery ice rink.   I'm ever so grateful for the ordinary making the extraordinary possible.
Disney-Not-On-Ice is worth cherishing too.
I'm joining in with Lisa Jo Baker on Five Minute Friday.  Today's prompt is "Ordinary."