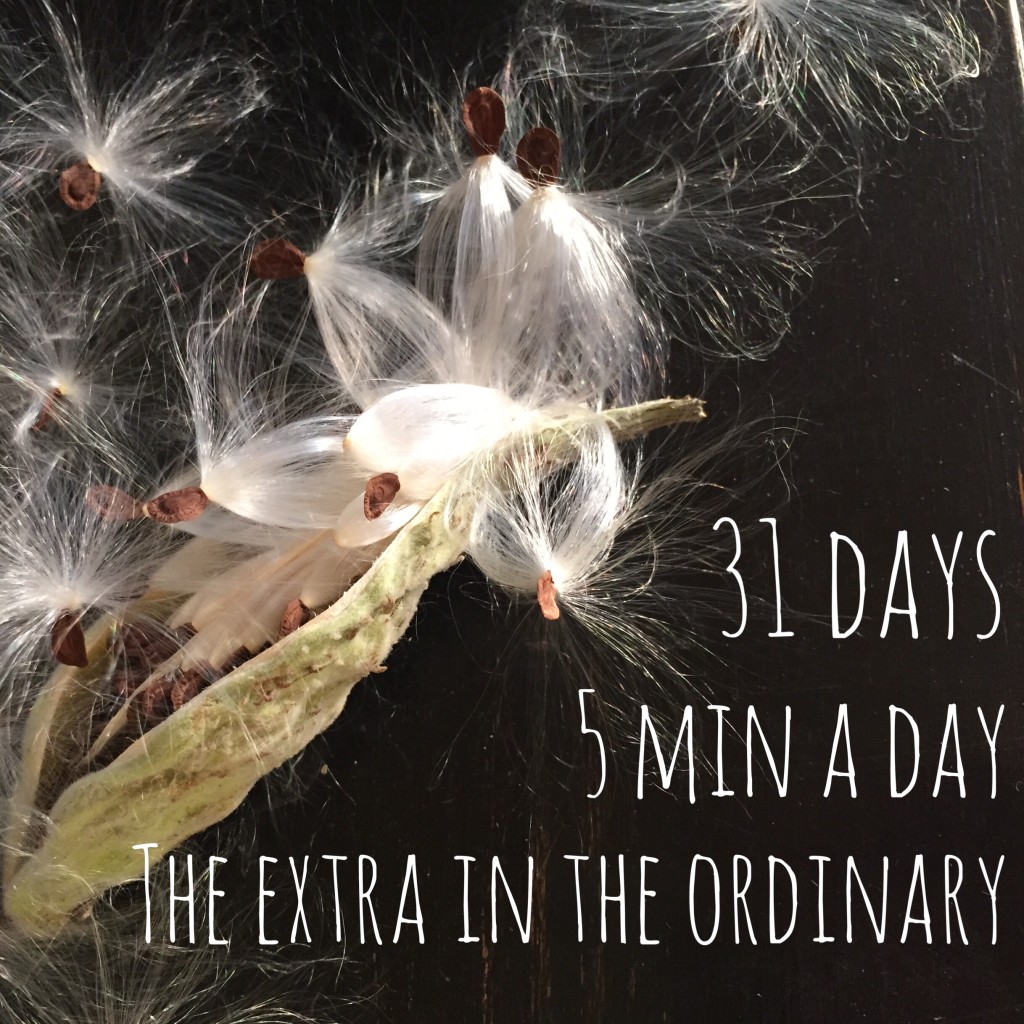 Magic exploded out of the milkweed pod.  A white fluff of fairy hair attached to a single seed.  The filaments trapped the thought of a breeze and took off, sparking sunlight.  I may have been weighed earthward by pots and pans and laundry baskets and kids squeezing my kneecaps, but that milkweed pod magic lifted my soul skyward. 
For the month of October, I'm joining in on 31 Days of 5 Minute Free Writes and so looking forward to the chance to notice and appreciate and set free the moments in life that bring joy in the midst of chaos.  It won't take me long to write, following the rules to write an unedited response to a prompt in 5 minutes, but the insights and gratitude I gain in that short time will lift my soul skyward for the day.  Join me in reading!  Grateful for the challenge of Write 31 Days.
---
October 1 | Calling
Samuel and Eli have beds.  Shoe box lids, really.  Covered in white fabric and provided, thoughtfully, with stuffed white pillows.  Samuel and Eli smile up at me, flatly and unblinking from their beds.  They refuse to sleep, those stubborn paper puppets.
Samuel and Eli wait beside my front door.  Part of the detritus I grab on my way out the door to teaching a preschool Bible Study.  As I tie shoes and stuff back packs and throw dishes haphazard style in the dishwasher and hunt down keys and cell phone, Samuel and Eli wait patiently, flatly, and unblinkingly.
God is about to call Samuel.  Samuel is about to call Eli.  And a room full of blinking, squirming, plump little preschooler bodies will hear all about how God seeks us out in all corners of our lives to listen, to follow, to respond.
I think of my own calling.  The way that my children seek me in our house.  We have enough rooms in our hundred year old house that I can *hide* in one spot and hear them run from room to room, calling with increasing worry ratcheting in their voices "Mama, mama, mama."  I respond, but if they don't hear me, the footsteps fall quicker, the syllables blend, "mamamamamama."
I think of my own calling.  As mother.  As teacher.  As writer.  As friend.  And neighbor and Vestry member and Marketing Director.  The many ways in which I spool out my same skein of yarn in knitting a variety of projects through my life.
God woke Samuel up in the middle of the night, calling simply "Samuel."  Just that.  His name in the darkest, quietest, most undistracted moments of his day.  God waited for Samuel to respond back.  No rushed footsteps, no slurred "samuelsamuelsamuel."  Just a patient "Samuel."  And eventually Samuel listened and figured out where God was waiting.
With my hands full of yarn and knitting needles and the raw material of the unique parts that make up me, I hear God calling "Beth."  He seeks me out, and in my dark, quiet, undistracted corners, I answer, "Yes Lord. I hear you."