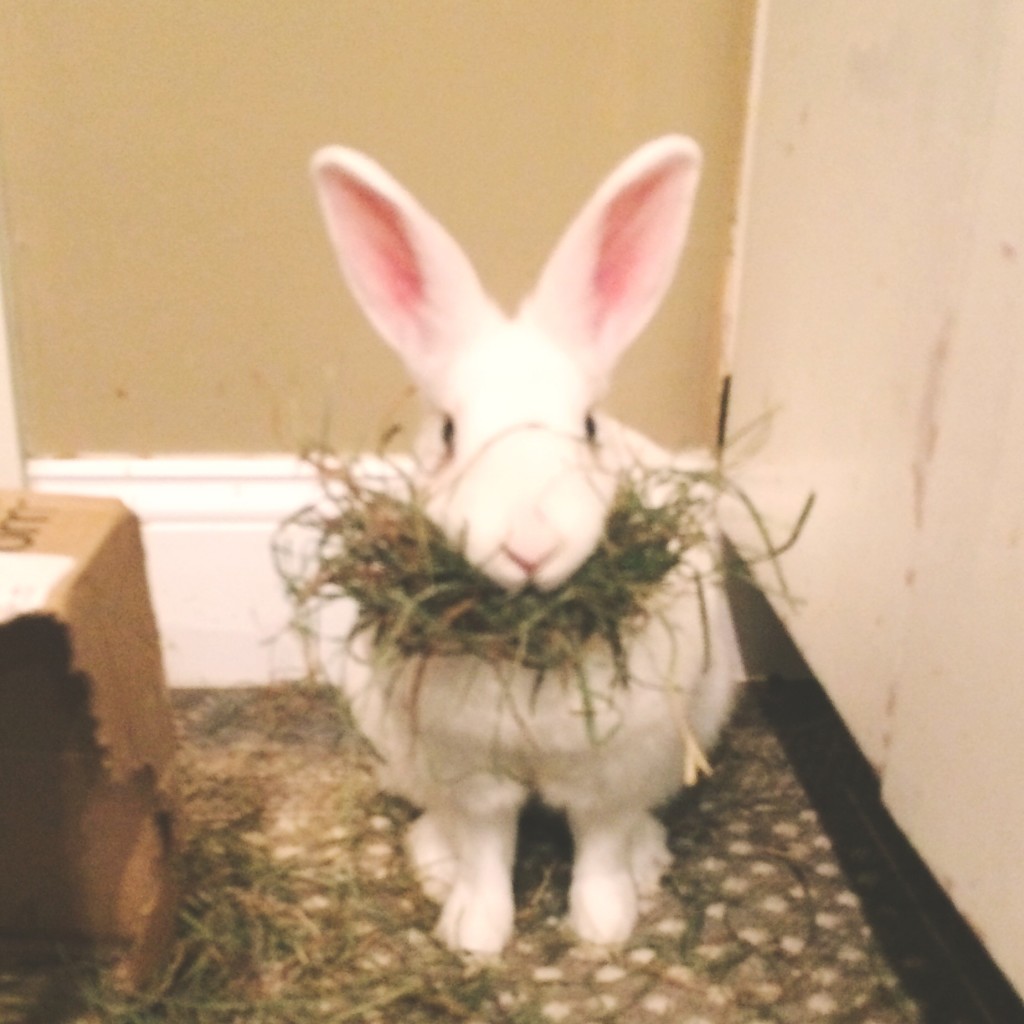 It's become my go-to statement when I need an ice breaker at a party: "We have a house bunny for a pet."  What is a totally normal fact in our family turns out to be quite the party conversation topic.  Especially when I next disclose that our house bunny has a broken bunny brain: she shows no interest in moving from her self-defined three-foot square corner of our kitchen.
Clementine, our house bunny of a year and a half, is just about the perfect pet.  She has litter trained herself.  Gives off little to no smell.  Makes not a peep.  And keeps herself inside an invisible fence whose perimeters are self-defined by our back door, the pantry, her litter box, and the corner of the refrigerator.
Despite months and months of freedom openly offered beyond the corner of that fridge, Clementine does little more than stretch as far as her bunny body can go (without lifting a hind foot from the back door carpet) and then hop quickly back to corner safety when she's exceeded her limits of exploration.
Go, we urge her, go explore.  Be a true house bunny.  Not just a kitchen-corner bunny.  See the wide world beyond the fridge.  Chew on a phone wire or two.
We literally dangle carrots in front of her nose to tempt her onward and outward.
Broken bunny brain refuses all temptation.
I'm guilty of judging Clementine harshly.  Fear of the unknown hemming in her life?  A lack of boldness confining her to a mental cage?  Bunny bravery, where art thou?
And then I'm humbled on the days in which I push my own limits too far.  When I say one more "yes" than I should have.  When I don't recognize my own stress fractures and take on an extra commitment or expect too much of myself in too many areas.  When I roam so far and wide I spread myself thin and transparent and unravel.
I've been studying 1 Thessalonians, and I find rejuvenating limitation in Paul's prayer in chapter 4, verse 11: "Make it your ambition to lead a quiet life."
A quiet life.
There is great beauty.  There is great rest in that admonition and goal.
It's a broken bunny brain existence.
A quiet life means setting limits that let me maintain peace and equanimity.  Not to stretch so far outside of my comfort zone that I am lost or swamped with fear.  A quiet life means freedom to recognize with gratitude that comfort can be found right where I am.
We eventually take pity on Clementine and move her carrot into her safety zone.  And there she sits and nibbles quite contentedly while I bang pans and run the dishwasher and slam lunch boxes on the counter and shove groceries in the fridge.  She sticks to her limits through it all.  Nose twitching.  Snoozing in the sun pouring through the back door window.  Rearranging her hay nest.  What need does she have to see what's offered beyond the fridge?  Come to think of it, her brain might be more brilliant than broken after all.
---
This post is inspired by and shared with the Five Minute Friday writing community.