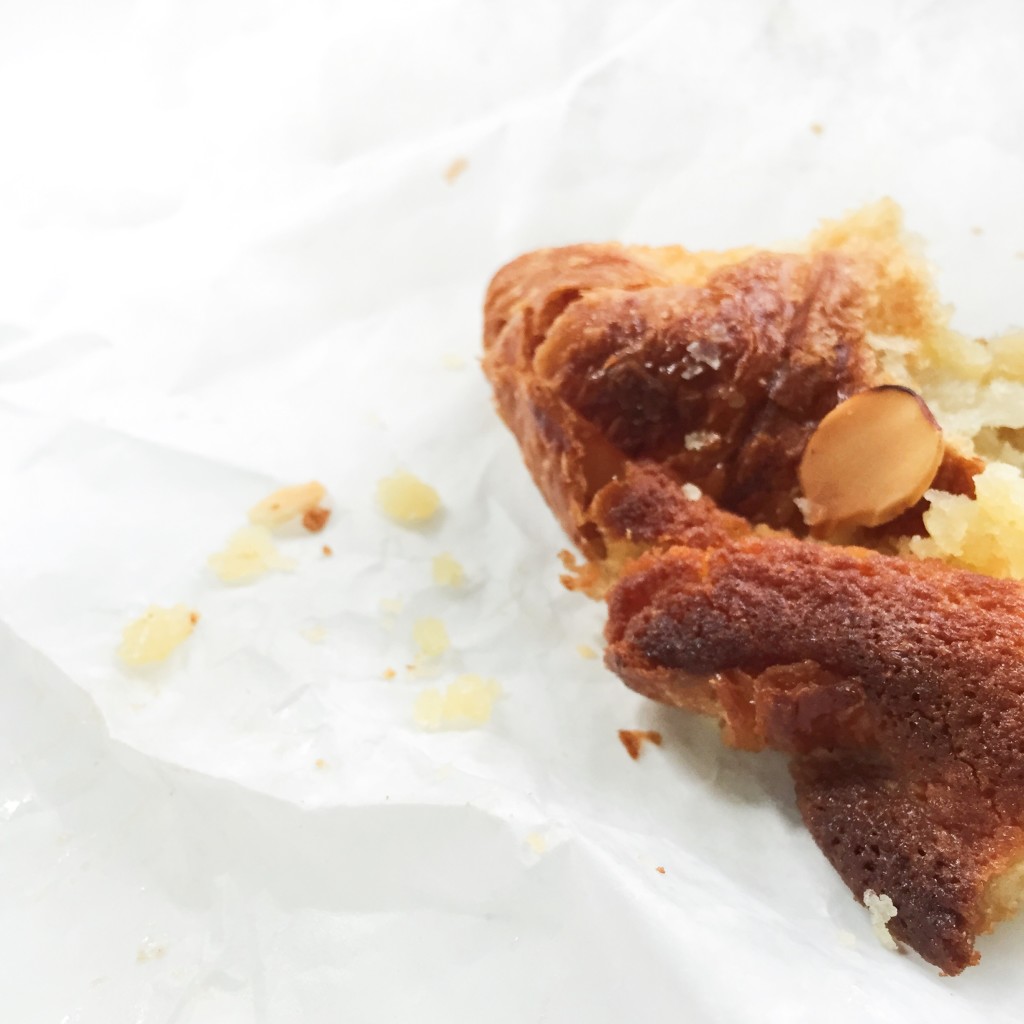 I almost cried in the French bakery today.  This happened after I actually cried earlier this week over a spider.  A big hairy one.  Crawling out of my apron pocket.  Eying me with eight starving eyes.  Zooming with protruding fangs toward my jugular.  That eight-legged spawn had death in mind for me, I am positive.  Definitely worth shedding a tear or two in fear of my life.
I almost cried in the French bakery today when the man in line in front of me ordered the last croissant aux amandes (almond croissant) in the basket.  I had watched the precious croissants disappear one by one into the bags of the customers in front of me until there was just one left.  And when the bakery assistant asked, "Can I help who's next?" it was not my turn to order.  It was not my voice that said, "One croissant aux amandes, please."  It was the man in front of me.  I couldn't help it.  I made an audible groan.  Tears sprang to my eyes in sheer frustration.
There are two important points to know here.  One, these particular croissant aux amandes may just be my favorite food in the whole wide world.  Two, I had made a pilgrimage just the weekend prior to initiate one of my lifelong best friends in the joys of the croissant aux amandes.  You know, you introduce your BFFs to your family, friends, and neighbors, so of course you'd introduce her to your best croissant.  Otherwise, how could you call yourself a true friend?  Well, the basket was empty on that trip.  Empty.
I simply couldn't handle an empty basket of disappointment two weeks in a row.  I was about to get downright and unforgivably sulky in front of a long line of people.  Well, the man in front of me, the lucky filcher of the last croissant aux amandes, turned to me and offered, "I know.  It's happened to me before too.  I could split this one with you, though."
I don't think his offer was sincere, but I appreciated the sentiment all the same.  It allowed me to keep my tears to myself just long enough to see the glory and hallelujah emerging from the back of the bakery: a basket brimming with fresh croissant aux amandes.  And all mine for the taking, should I so choose, since when the bakery assistant next asked, "Can I help who's next?" the next was me.  I showed some restraint, much to the relief of those lined up behind me, I'm sure, and I only ordered two.  Because on a week when your life has been threatened by something that has six too many eyes and six too many legs, the only thing to do is stuff an extra croissant aux amandes in your crybaby face.
---
Day 17 of 31 days.  For the month of October, I'm joining in on 31 Days of 5 Minute Free Writes.  Following the rules to write an unedited response to a prompt in 5 minutes, I'm grateful for the challenge of Write 31 Days.