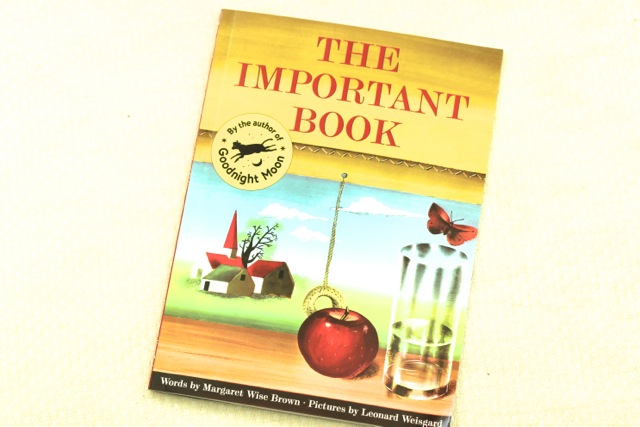 I have memorized the entirety of Goodnight Moon.  If you have children under the age of five, I bet you have too.  But have you ever heard of Margaret Wise Brown's other book, The Important Book?
Me either.
And what a shame.  Because THIS is the BEST children's book I've never read.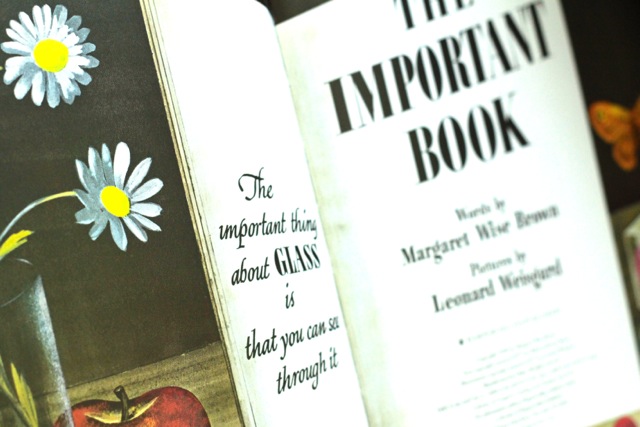 We're a book-y family.  Two English major parents, one of whom went on to be an English teacher, will do that to a household.  We've got bookshelves on every level of the house.  We're voracious about finding new, good reads.  My friend Megan knew this about me when she sent me the lovely gift of this children's reading list from Dinner: A Love Story.
Holding down coveted position #1 in Dinner: A Love Story's 121 book list is Margaret Wise Brown's The Important Book.
I promptly bought it.  Because, you know.  Goodnight Moon.  Can't read it one more gosh darn time.
I opened the first page and fell in book-love.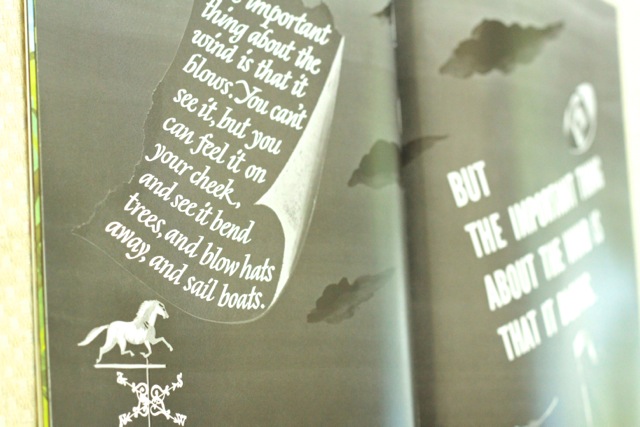 The pictures are charming.
The text is charming-er.
The story is down-right poetic on a spartan level that appeals to children and adults alike.
And the book simply begs for audience participation.  Each page and featured, familiar item begins with the repeated phrase, "The important thing about ____ is…"  Which means, when we get done reading about what Margaret Wise Brown thought was the most important thing about apples, grass, wind, shoes, or what-have-you, the listener gets to offer up her own opinion.
For example, Little Friend told me last night that "The important thing about the sky is that it goes up to heaven."  Nuff said.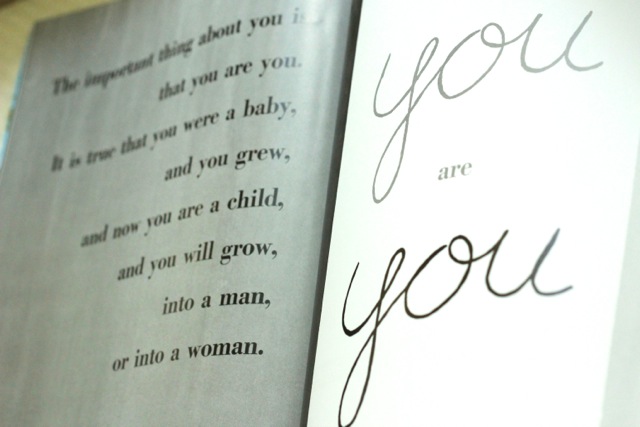 I love the last page the best.  "The important thing about you is that you are you."
The Important Book is going straight to the top of my gift list for baby showers, birthdays, Christmas, graduations, and any other reason I might need to proffer a memorable gift.   The book, and its message, is that good.  That universal.
You don't need to have children under the age of five to love/buy/memorize this book.  Its message is for all of us, all ages and stages of us.  Let it be enough today that you are you.  In your small moments, small gestures, small measures of great importance, it is wonderful that You are You.
---
While it's still up for grabs, make sure you download 121 Books from Dinner: A Love Story.  Fabulous recommendations!  Any other books I've never heard of that I should be reading?